Follow the next steps to install a Phantom wallet extension, in your browser, to deposit, swap or withdraw cryptocurrencies.
WARNING:
Do not trust DMs from anyone offering to help/support you with your funds (Scammers)!
Never give out your Seed Phrase and DO NOT ENTER it on ANY websites sent to you.
Community Managers will NEVER DM you first regarding your funds/wallet.

First, you need to visit Phantom's main page - ​Phantom Official Website​
Then, go to the download section and choose the option that best suits your preferences - ​Download Phantom Browser's Extension​
If you are browsing from your cellphone, you must choose to download for mobile. If you are browsing from a desktop instead, you will have to download the extension available for Brave, Chrome, Firefox, and Edge browsers. This guide will focus on the latter.
Once the browser is selected, you will be redirected to the Chrome Web Store download page - ​Phantom for Chrome​

Or the Firefox Add-ons page - ​Phantom for Firefox​
You must press the button to add the extension to the corresponding browser and confirm.
Once the download is finished, you should be able to see the Phantom wallet icon in the Extensions part, usually located on the right side of the address bar. If you can't see it, you can also use the Extensions button in your browser.
To access the wallet, click on the icon. This will open a new window where the user will be asked whether he has a wallet or not. If you have already registered to Phantom, all you have to do is enter your wallet's seed phrase, select which wallet accounts you wish to import, and confirm by entering your password.
If you don't have an account yet, click on the first option "Create new wallet".
Next, enter your password and read the Terms of Service. If you agree, press "Next".
In the next part, you must write down your seed phrase in order to access your wallet in the future. Keep in mind that **you must store it safely and not share it with anyone.**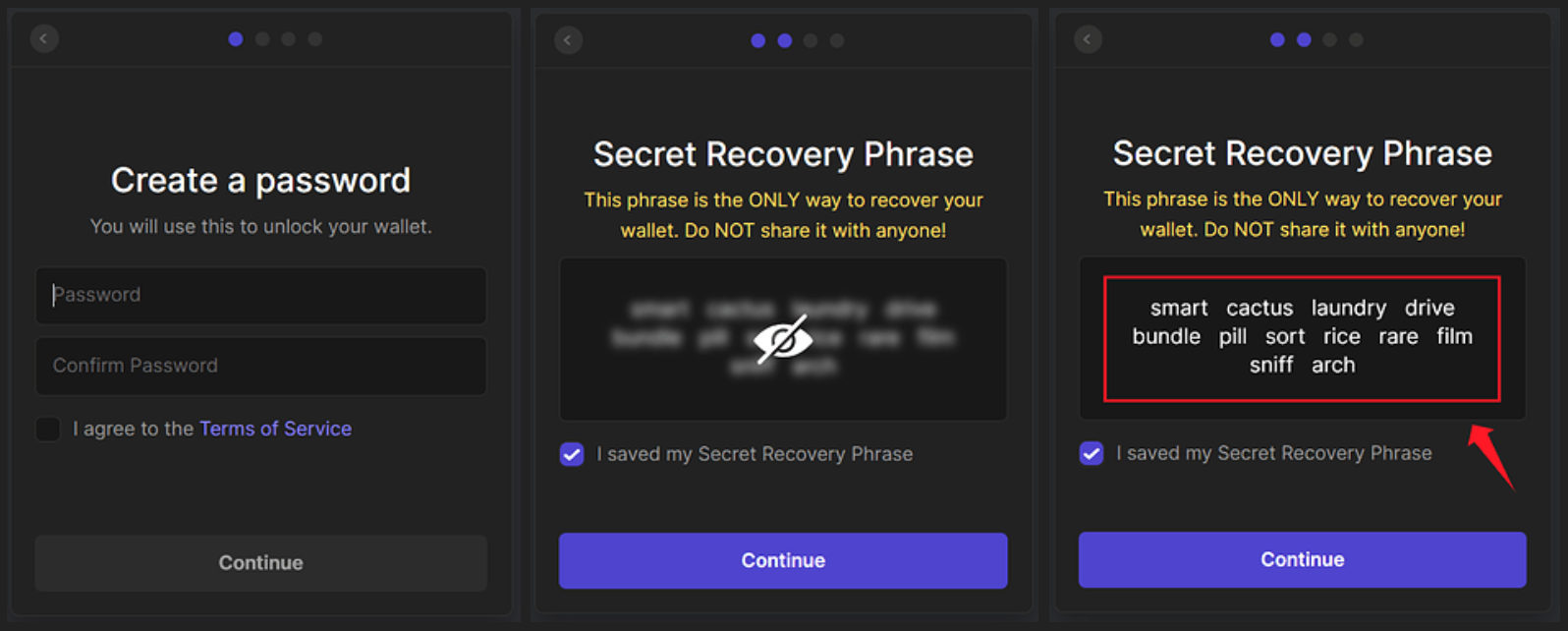 Finally, you will be asked if you wish to follow them on Twitter or visit their help center, click on "Finish" to complete the registration process.
You're ready! This extension will be available every time you open your browser (unless you disable it), and to access your wallet; you will only need to enter the password you chose in the first step of your wallet creation.
By clicking on the wallet icon , you will be able to manage your wallet and see your balance.